Anyone who stacks firewood on a regular basis will tell you there is an art to it; a wood pile needs to provide the wood adequate "breathing room" to dry and cure for optimal burning and to prevent mold growth. The stack must also be sturdy enough to stand for months as it gets slowly whittled down during the burning season. While achieving these standards can require plenty of creativity, there are some folks out there who take their wood piles beyond typical, designing true firewood works of art.
We've written about creative firewood piles before, but we've found more we think are worth sharing. So here are fifteen more beautiful, envy-worthy firewood piles:
15 firewood piles too pretty to burn
While it would take some planning to get the layout just right, a few dabs of paint to the ends of some of the wood pieces brings a flower to life within an otherwise ordinary firewood stack.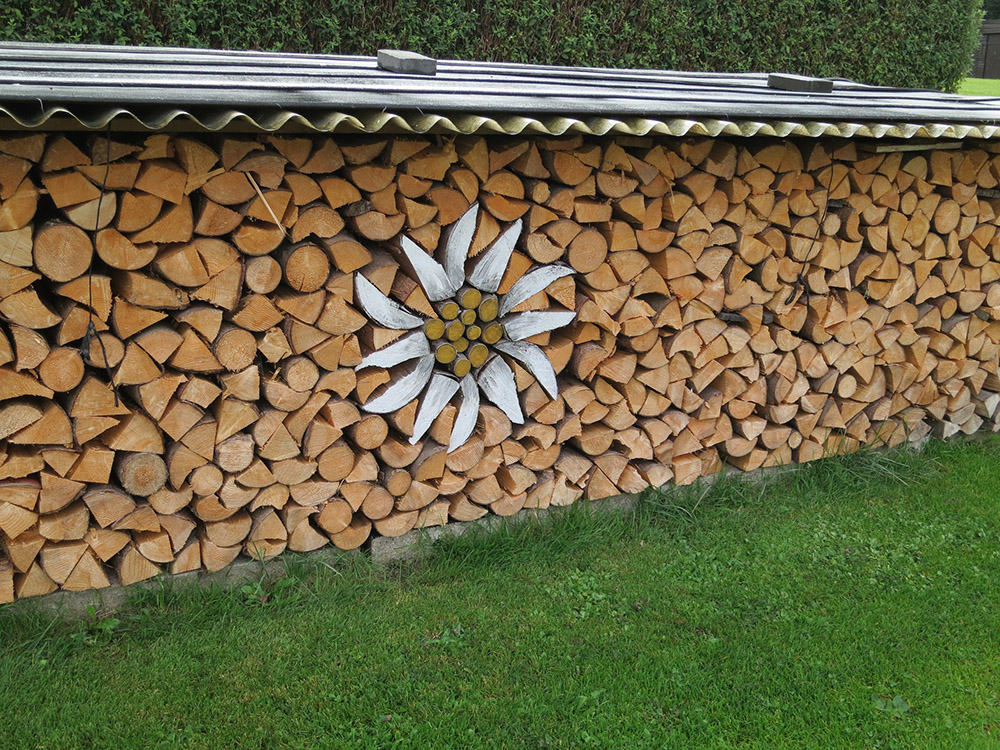 I love a firewood pile that acts as a functional showpiece while it sits waiting to be used. A wagon wheel within this stack makes it a decorative fence.
A "window" built within the logs gives this pile of wood beneath these cabin stairs visual interest.
A few strategically placed pieces of wood and some flowers bring a simple beauty to this wood pile.
How cool is this wood stack?! A variety of colors, sizes, and textures combine to make this amazingly realistic wild boar sculpture.
A firewood shed can help keep wood dry and makes it easier to keep in a neat stack. The owners of this shed added some wood pieces and flowers to add a creative display to their yard.
How's this for art? A wagon scene built within this wood pile is one of the coolest firewood creations we've seen.
A steel frame can help turn a backyard wood pile into a full privacy fence. This is very creative use of a pile of wood that would otherwise just take up room in the yard.
This massive wood pile – stacked into a fence and archway – seems to defy physics, doesn't it?
How about some more flowers? I love the mix of natural colors and textures used to create the image in this stack.
Rays of sunshine add beauty to a wood pile while helping to stabilize the stack.
This butterfly is definitely too pretty to burn. Whoever created it must think so, too, given the aged appearance of the wood. 🙂
This peacock-style wood pile took a great deal of planning and creativity. It is beautiful, while keeping the wood adequately spaced and protecting the bottom logs from the dirt.
A creative angler in Norway turned his winter wood stash into a fish sculpture.
This wood pile became a charming country cottage – a beautiful, unique decorative piece that also happens to be an ingenious way to let the wood cure.
I know what you might be thinking at this point: it's just wood and it's going to be burned eventually, so why go through all that work? But think about the fact that a firewood stack is something that takes up space on your property and in your sight for an extended period of time, so making it pretty and functional just makes sense. Kudos to those who turn the mundane task of wood stacking into creative art!
This article first appeared on offgridworld.com Check it out here