We built our home to be a "lifetime" house, serving our changing needs throughout our lives. We planned to have the option of aging in place. From children, to injured family, to possibly multiple families or live in relatives, we tried to cover likely scenarios. In this post we'll present our Aging in Place Design Checklist, and then highlight how to apply this checklist to different areas of the home.
Whether you are building new, remodeling or just thinking about what you might be looking for in a home or apartment, consider accessibility in your requirements. Wrought iron railings or marble counter tops might be trendy, but minor structural changes can make sure you are able to enjoy your home for many years to come with a similar investment.
Over the last 12+ years the extra lighting, open concept, wide hallways and doors, hard floors and other accessibility features have served us well. Laurie's mother visited and was surprised to be able to easily shower in the low clearance shower. Great Uncle Bill visited in a wheelchair and he could roll right in and out without hitting anything. Best of all, we didn't have to carry him up steps. When Grandma Jane visits she can roll in with a walker or walk without different flooring to trip on.
Aging in Place Design Checklist
Single Level Access
We strongly recommend that a home have a bathroom, kitchen, laundry and at least one bedroom on the main living floor. If this isn't possible, build for the option for stair lift or elevator in the future. See the section on Stairwells below for lift information. For an elevator, locate two closets one directly below the other, and keep the floor/ceiling between them clear of plumbing and electrical.
Doors
Use 36 inch wide doors throughout. Skip doors if you can, such as skipping doors on closets. (Doors often get in the way of wheel chairs and walkers.) Consider pocket doors to allow maximum clearance. Use lever door handles instead of door knobs. Handles are easier to operate if you or are in a wheel chair, or just have your hands full.
The main entry and garage entry should be 42″ wide if at all possible. We had to replace 10 to 20 year old appliances and the delivery guys were amazed at how easy it was to get the old fridge and stove out and the new ones in with the wider hallways and 42 inch exterior door.
Consider covered entries over all your exterior doors – a small porch or covered concrete pad. When you're juggling a walker, wheel chair or crutches, it's helpful to be at least partly out of the weather as you gain entry to the home.
Paint
Lighter colored paints improve lumen levels in the home. Brighter colors have also been shown to improve mood. A semigloss latex paint is a good option, because it is washable. Spills happen, more so at both ends of the age spectrum. It's easier to wipe down a wall than have to repaint.
The flooring should be a bit darker than the walls so there is a contrast between floor surfaces and trim/wall. The color contrast gives the visually impaired a key to where the wall and floor meet.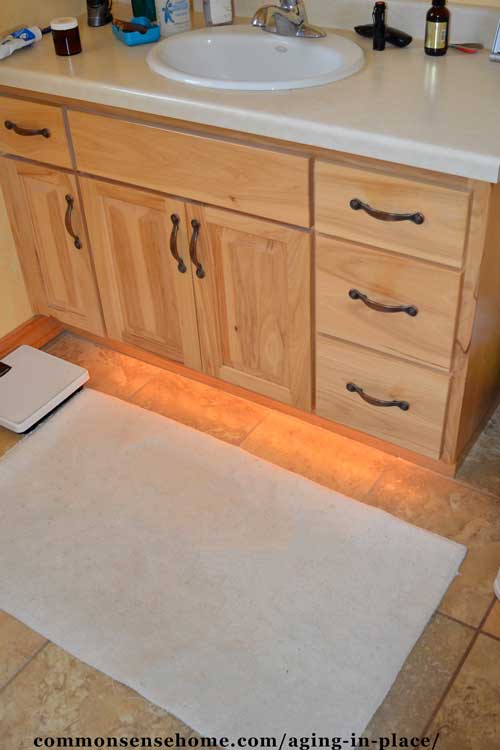 Lighting
Try to have 2 to 4 times as much lighting as you think you need. Extra lighting makes it easier to allow aging in place. Try to have daylighting (windows or sun tubes) in all living spaces if possible, to allow for natural light as well as ventilation on a nice day.
In addition to general lighting, we recommend extra task lighting, so you have light right where you need it. We also added toe kick lighting on a dimmer in the bathrooms and the kitchen, for use as a night light. LED lighting helps to reduce energy usage, keeping your electric bill down.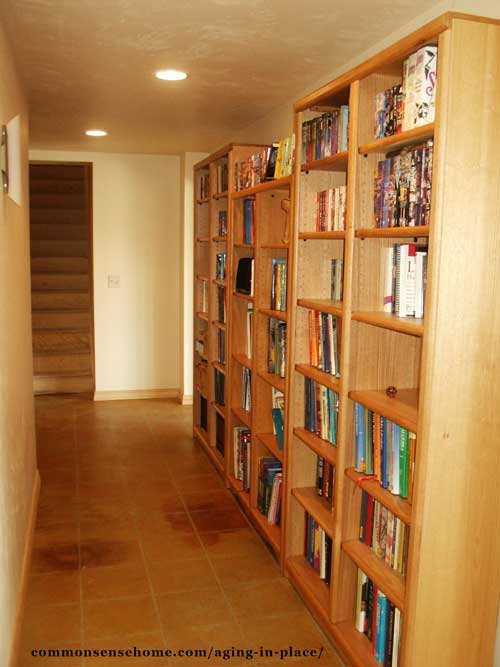 Hallways
Hallways should be 36 to 48″ wide. A hallway can be used for multiple purposes. It could be a library, closets, pantry or even laundry. Consider shelving the entire length of a hallway.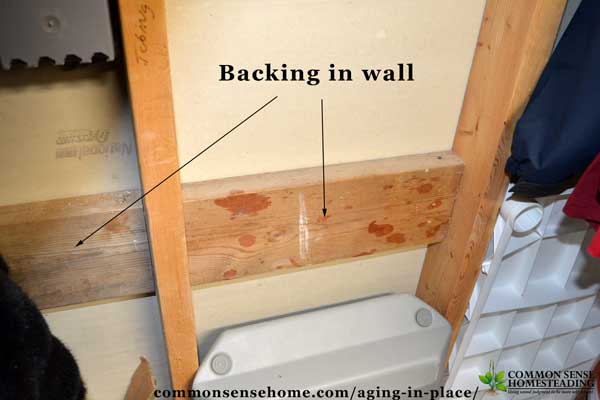 Support and Backing
When you add home medical equipment like safety rails or bed lifts, they need to be mounted in sturdy lumber. This is called "backing". It's easy to add while your walls are open, but requires a lot more mess if you have to add it later. We used 2 x 6 and 2 x 8 chunks of lumber to create wide, solid screw surfaces. Even a 2 x 4 in the right spot will provide significant support.
Add backing in walls, especially in bathroom and stairwells, and additional ceiling supports in bedrooms for lifts over beds. If you're planning for a flat screen TV in an area, add backing there, too. Backing is easy to add when you are building, but not easy later, so add it anywhere you MIGHT need it.
Front Entrance
Consider adding a camera to the main entrance to allow communication with visitors (preferably a way to lock/unlock remotely also). Consider a system to remotely turn on exterior lights. The entry should have a line of sight out of the house, so you can see as people approach. The front door should be 40 to 42 inches wide to allow easy access for a wheelchair. (It's also great for getting furniture, appliances or Christmas trees in and out.)
Windows
Select energy-efficient windows that are easy to open and easy to clean. The windows should require little strength to close and lock. Crank handles are a good choice. Blinds and insulating curtains should have longer cords that can be reached from a wheelchair or be mechanically operated. Insulating blinds/curtains reduce heat loss in and out, and also reduce glare. Dark shades allow for a better nights sleep for young and old alike.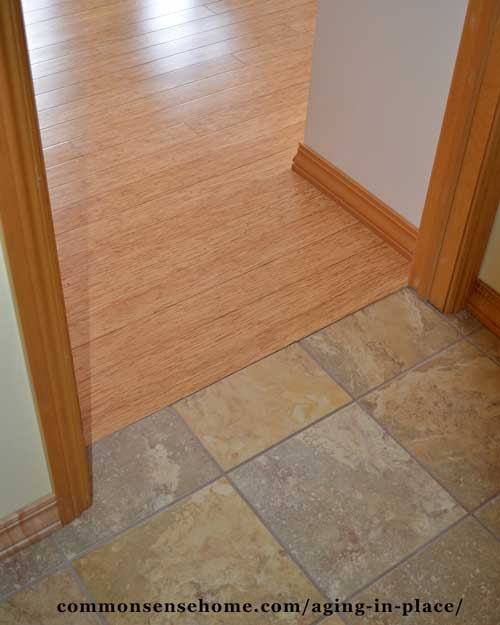 Flooring
Select non-slip hard flooring throughout your home, and ensure you have level surfaces at entrances. Wherever possible, all the floors should be level or "at grade" so there is no threshold or a low threshold at doorways. This is huge for those using walkers, and/or those who have trouble lifting their feet.
Cabinets
Cabinets should have white or light interiors. They should have loop or lever handles (not knobs), to avoid catching on clothing (or medical accessories like oxygen hoses). Protruding knobs are also more likely to catch a hip or elbow. Use pull out shelving where possible, to make it easier to access the items in the back of the cabinet.
Heating, Cooling and Ventilation (HVAC)
Consider radiant heating. As we age our circulation to extremities slows. Warm floors become more appealing to cold feet.
Good ventilation matters for a long term comfort in a home. Cool air in the summer and warm air in the winter are critical. Air filtration can reduce the impact of allergies for young and old alike. Make sure every room has ventilation – even consider ventilation in large closets and storage areas. Good filtration also cuts down on dust and reduces cleaning needs.
HVAC systems need to be just the right size. Over-sizing or under-sizing are both problems. Unless the system is just right, it can make the system less efficient and less effective. That level of comfort matters throughout our life. For more info see: Building Eco Home – ICF, HVAC, and Plumbing.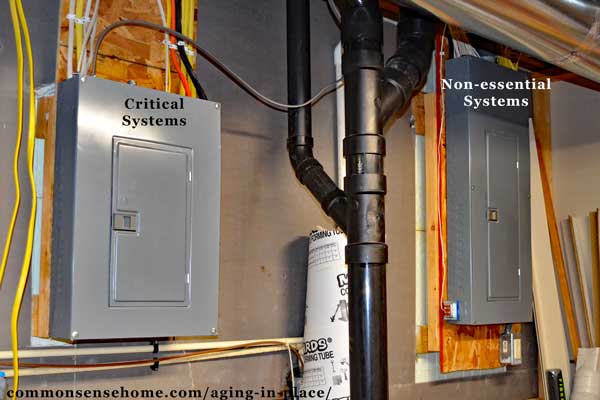 Electrical
Anyplace you might put devices to charge, you may want to put a bar USB charger. Also consider quad (4 gang) electrical outlet instead of 2 gang. Consider extra outlets, on separate circuits, in bedrooms. Place extra outlets near each location you might put a bed. You might need the outlets for medical equipment as we age, or in the shorter term for rechargeable devices and small electric appliances, monitors and computers.
Electrical outlets should be placed where you NEED them. Around the house 18 inches to 24 inches above the floor, or just above a counter or near a desk. Light switches should be 36 to 44 inches above the floor, and a lighted switch can act as a guide in the dark.
If you are in a single family dwelling, consider dual panel electrical. One panel for non essential items and a 2nd that could be fed by generator for critical services such as critical lighting, well pump, stove and other items.
The controls for ventilation in all our bathrooms are on a timer. The timer is useful so children or forgetful adults/seniors don't leave fans running.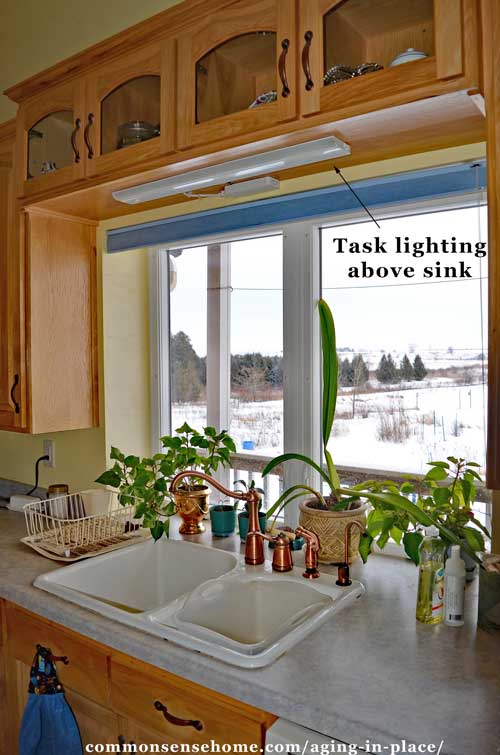 Kitchen Design Notes
Be careful with your work triangle. Try to design for two work triangles if you can. Include variable height work surfaces. In the kitchen we have a lower butcher block that the kids used when they were little, and as adults we still use when we need to apply pressure, suck as hacking a large squash in half. The lower counter height could have a roll out storage unit under it. Rolling out the storage unit allows an open space beneath to let someone pull a chair up or even a wheelchair. It still provides storage. This can be done under the sink, too, to allow rolling access while preserving storage space.
All the cabinets have white interiors to simplify seeing what is in them. Many of the lower cabinets have pull out drawers and shelves. We also have a lazysusan corner recycling center and pull out garbage cans to keep the area free of tripping hazards. Finally, there is extra task lighting everywhere, and toe kick lighting for getting a drink at night.
We have old fashioned cork backed linoleum flooring. This is easy to clean up, and makes it slightly less likely for glass to break if it is dropped.
We recommend selecting easy to operate appliances. Many modern devices have far too many electronic controls. See "Spring Cleaning – 6 Steps to a Clean and Organized Kitchen" for general kitchen organization tips.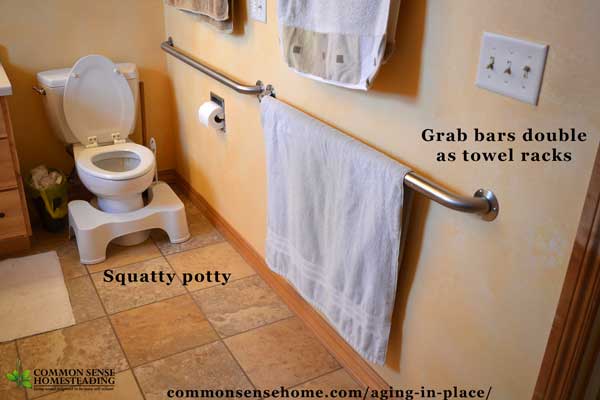 Bathroom Design Notes
Our bathrooms were built to be handicap accessible, but they don't look like a hospital. We added backing in the walls and used heavy metal grab bars as towel racks.
You should have a walk in shower on the main floor. Ideally it should have at most a 1.2 inch rounded edge and be ramped from the outside in. The small "ramp" avoids a big lip that would be a tripping hazard. The shower should drop about 1/8 inch per foot to a drain in the center (that way the slope is even on each side). You also need an adjustable-height, handheld showerhead/hose.
We have a Kohler FreeWill Barrier free wheelchair accessible shower (K-12102-C), which has been discontinued. None of our immediate family use a wheelchair at this time, but we all appreciate the large shower, with solid handles. We have had it for over 10 years and are very happy with it. The boys only splashed out of it a small amount when they were younger. The Kohler K-12111-C-0 Freewill is similar, but a little smaller, and has a fold down seat.
The unit is one piece, so there are no grout lines to clean. (Two piece units are a little less expensive, and only have one seam to clean.) We prefer fully enclosed showers, so you don't need to worry about water damage and peeling paint above. (Less maintenance is good.)
The basement tub is also a full deep tub with a complete surround and grab bars. Again we have been happy with this purchase also. The basement bathroom has grab bars also.
We have hand-held showers with single lever control, scald control faucets in both the shower and the tub. Hand held showers are extremely helpful for washing those with limited mobility.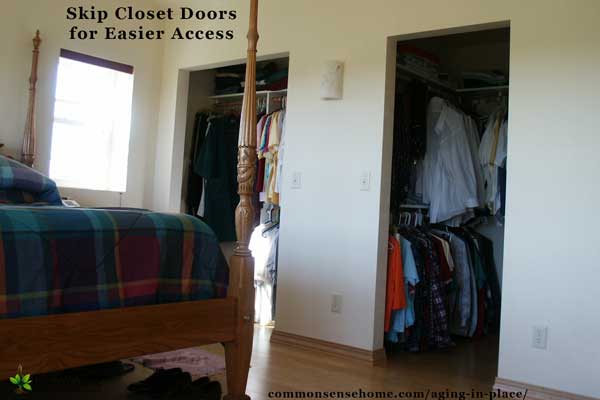 Bedroom Design Notes
Our bedrooms all have hard floors and well lit closets. The "master" bedroom, has two closets and neither closet has a door. We tried to make it so the walk in closet had wide access for a wheel chair (just in case). Again, all the shelving is white.
We ensured good airflow with central air for cooling and fresh air and ceiling fans in each bedroom.
If you are remodeling or building new, consider wiring/design so that you could have individual room temperature and humidity controls. This could mean mini-duct or other special venting and more advanced thermostat and controls. Even with all of us healthy, we have different preferences for sleeping temperatures.
The main floor bedroom should have space for a king sized bed, if possible. That extra space would ensure enough room for an assisted mechanical bed.
Consider adding sound batting in walls. This is especially important if a bedroom or bedrooms are off the main living space. Sound insulation is fairly inexpensive but could make a bedroom more livable if there is activity all hours or someone is a light sleeper.
Stairwell Design Notes
Your stairwells should be 40″ to 46″ wide. This allows the addition of a chair lift, or two people walking side by side for support. Include backing on both sides to allow the addition of a chair lift. The backing also makes for more solid anchors for railings. Stairwells should be located where children or older adults would not easily fall down them. Again, consider backing in the area near the top of the steps to permit a gate or door to protect the stairs.
Have extra stair lighting with switch at top and bottom. Treads should be 10 to 11 inches and have nonslip surfaces. The rise should be 6.5 to 7 inch with no "nosing". The tread should not have a lip, i.e., it should not extend out past the riser. No nosing reduces the risk of tripping.
Laundry Room Design Notes
Our laundry is also a 1/2 bath that has an upright freezer. The laundry room has linoleum flooring. extra storage over the front loading washer and dryer. Make sure that the location has the washer closest to the wash tub/sink. Another thing to confirm is left/right on the washer and dryer so that the front loaders match so you can easily move items from the washer to the dryer. Having a hanging bar directly over the sink allows you to drip dry laundry if needed.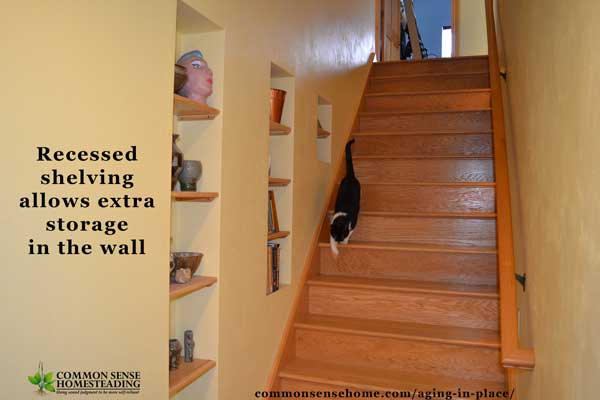 Storage Design Notes
Get creative with storage. Recess cabinets into walls to use the stud wall gap (it gives about 4 inches deeper storage). Put shelves along hallways between studs. Consider defined storage under steps. Make closets run right to the ceiling for extra storage. Consider traditional tricks like wall "murphy" beds and pantries. The Japanese have fantastic ideas with entire movable walls with integrated storage. Storage is necessary throughout your life, and being able to easily find things is critical. Check out the post "Preparedness Storage – Keeping it Safe and Sound" for a wider variety of storage suggestions.
Garage Design Notes
Consider a at least a two stall garage with at grade entrance. That means the concrete in the garage is level with the internal floor levels. At least one parking stall should be larger to fit a large powered wheelchair accessible van. That space should have room near it to allow a wheelchair to turn around. Again, add extra outlets, and extra lighting. We upgraded to heavy duty hangers for tools, to avoid them dropping on children or older adults.
Outside Design Notes
When we think of aging in place or building a lifetime home, we need to focus on the interior. But we can't forget the exterior. Walkways around the home should be no slope and no slip surfaces.
There should be extra lighting where needed to allow easy navigation in the dark. There should be enough outside lighting to allow a person to walk completely around the home with full lighting. Pathways should be a different color than the surrounding landscaping and vegetation. Outside electrical outlets should be high enough to be visible and away from future debris.
Consider raised beds or container gardening for easier gardening access for aging adults.
Other Considerations
Focus on low or easy maintenance appliances, finishes, flooring and lighting. An LED light that you don't need to replace for 10 years is a lot less of a hassle for someone who has trouble on a ladder.
Find a good place for a fire extinguisher, and make sure you have one.
A trick for sliding doors is to drop it into the floor slightly. Aligning the top of the door threshold with the interior flooring and exterior deck/flooring. This avoids a tripping hazard. I really wish i had know about this as I have stubbed my toes on the threshold numerous times.
Consider eliminating carpet. Carpet is a tripping hazard and thick carpeting is very difficult to push a wheeled walker or wheelchair through. From an indoor air quality perspective, carpet is a source of VOCs. Carpets increase the amount of dust and allergens trapped within the home. There are many natural choices available, including linoleum, cork and bamboo, which are easier to walk on and provide some cushion in case of a fall.
Consider rounded corners on cabinets, doorways and other locations you could bump/run into. Many people bruise more easily and heal more slowly as they age.
If you have a fireplace or wood stove, consider protections to make them safe to touch. A double brick layer and shield on the metal/glass face can protect children and older adults from unwanted burns.
When we built, it was odd to find that as we added accessibility features, many turned out to improve Feng Shui – but that's another post.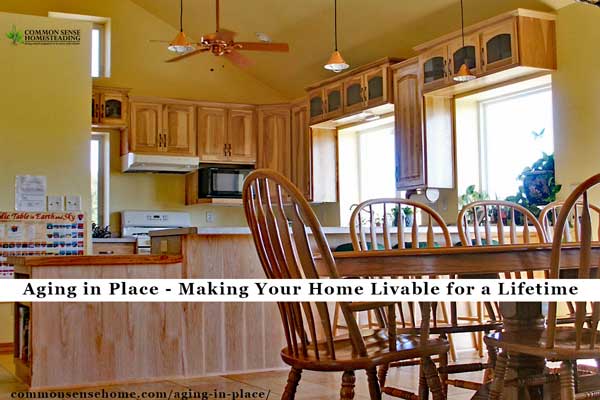 Related Posts
Building an Eco Home – Brainstorming
Building an Eco Home – Floor plans
Best Ways to Keep Your House Warm – New Construction and Remodeling Tips
The post Aging in Place – Making Your Home Livable for a Lifetime appeared first on Common Sense Homesteading.