My husband, August, did a ton of research to find the best battery chargers and rechargeable batteries for emergencies and every day use, so I asked him to help put together this post to share what he found out. There are battery chargers that can recharge nearly every type of battery – even alkaline (if you're careful), specialty rechargeable batteries, and batteries that are mostly dead. We have battery adapters that let us use AA batteries in place of C and D batteries in a pinch. We also have a 21 watt solar panel and emergency radios with built in chargers to charge USB devices. When you stock up on batteries and chargers, well-organized storage is also a must.
Note: If you're looking for information on car batteries, see: "Car Won't Start in the Cold? Check out these Troubleshooting Tips".
Best Rechargeable Batteries and Chargers – Quick List
Best Rechargeable Batteries – AA/AAA
Rechargeable batteries save us money, reduce waste in the environment and give us options in emergencies. The best rechargeable battery brands vary over time, so we'll update this post to keep up with the available tech.
Right now Tenery is the leader of AA/AAA. The last time we reviewed, Panasonic Eneloop Pro and EBL were top picks for AA/AAA. (The EBL was removed due to what we perceive as false advertising in mAh and shelf life.) We picked the Tenergy because of they are about $1.30 for each AA rechargeable battery, while the Energizer are approx $3 each and Eneloop Pro are approx $4.40 each for AA rechargeable batteries. (Check links for current prices.)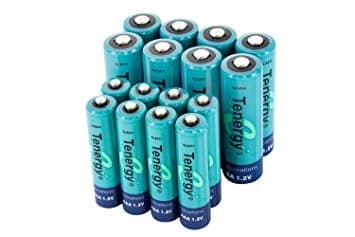 Recommended AA and AAA rechargeable batteries. Tenergy High Capacity 2600 mAh AA 24 pack at each and the Tenergy High Capacity 1000 mAh AAA 24 pack at approx $1.00 each are the best for everyday use in items like clocks, toys, radios, remote controls and of course flashlights. These can be recharged 1000 times. We found them as low as $1.30 each for in bulk but prices will vary. Pretty much all the Tenergy rechargeable batteries are a good buy for everyday use. The every day AA and AAA runner ups are the Eneloop AA 16 pack at and the Eneloop AAA 16 pack (check links for current prices).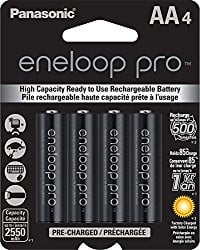 AA and AAA Rechargeable Battery Runner Up. Panasonic Eneloop Pro AA 2550 mAh 8pack and Eneloop Pro 950 mAh AAA 8pack are best for long term storage and intermittent high drain. The Low Self Discharge of this battery combined with 500 recharge cycles and high mAh make this the a very popular choice for batteries that sit on the shelf between uses (it holds 80% of its charge sitting on the shelf for one year).
Others batteries considered (check links for current prices):
Best 18650 Rechargeable Batteries
Recommended 18650 Battery. We bought and recommend the Orbtronic 3.7v 3500 mAh 18650 protected mode battery. It has been a consistent performer in various flashlights. The 18650 battery type is becoming more common as it is used as part of battery packs for everything from rechargeable toys, to laptops, to electric cars and of course flashlights.
18650 Runner Up. A well priced alternate is the 4pack of Odec 3350mAh 18650. The Odec would be the clear #1 if they were protected mode (protected from over-charging), if you have experience dealing with unprotected 18650's these are a great choice.
Best Rechargeable Batteries C, D and 9 Volt
The EBL has good ratings and is our winner, but only by a hair. Be aware EBL overestimates the mAh ratings on nearly all their batteries. The good news is that testing came back with higher scores than many of their competitors, just not as high as EBL noted. Also there are not a lot of long term reviews of EBL.
Note you might invest in eliminating devices that use C, D and 9 volt instead of investing in the C/D/9V rechargeable batteries and a C/D/9V charger. If you have the need here are our recommendations (check links for current prices):
Our runner up for C/D/9v rechargeable batteries is Tenergy. Tenergy 9volt 200 mAh low self-discharge battery 4 pack. Tenergy C Size 5000mAh High Capacity High Rate NiMH Rechargeable Batteries 8 pack. Tenergy D Size NiMH Rechargeable Batteries 8000mAh Low Self Discharge 8 Pack (check links for current prices)
Recommended Non-Rechargeable Batteries
Although we recommend you buy rechargeable batteries for most uses, it's handy to have a stash of non-rechargeable batteries, too. We use non-rechargeable batteries for situations where the battery might be lost, or for very long life, low drain situations. You might want to use the lower cost batteries for use in gifts where you don't want to give away your expensive rechargeable batteries. Watch for sales and stock up so you don't impulse buy at a convenience store because you need them and don't have them. Also note, rechargeable and regular batteries tend to sell out quickly when emergencies hit – so buy them in bulk.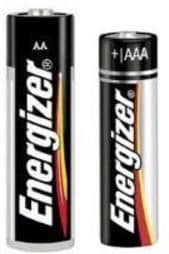 You can find alkaline batteries fairly inexpensive in bulk. In packs of 100 to 500 you can get Energizer batteries between 35 to 40 cents and Duracell at 28 to 36 cents. Note, the awesome lightweight 3000mAh Energizer Lithium AA (non rechargeable) are about $1.40 each in bulk. The Energizer Lithium AA is lightweight and lasts 7 to 8 times longer than a normal AA battery… BUT it costs more than a Tenergy High capacity 2600 mAh AA rechargeable battery.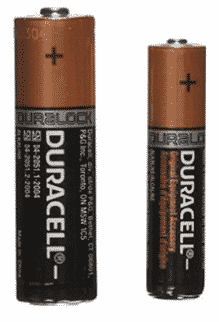 Compare Prices
Compare prices before you buy alkaline or newer lithium batteries. The regular Energizer AA (not the lithium) are about $.55 each. At only one recharge, the Tenergy is cheaper (unless you lose or give away the battery). As we noted, there are cases where the Energizer and Duracell make sense, but the rechargeable cost per use is decreasing rapidly. Even the high end Eneloop Pro AA at approx $4.50 each breaks even at 9 recharges (it can handle 500 recharges).
Alkaline batteries are still cheaper but the price has been dropping to the point that the rechargeables will be a better straight cash value soon. As an example, if you buy the 60 pack of Tenergy High Capacity AA batteries they are less than $1.36 each. If you only recharge them 3 times you have covered your total cost, and if you perform 4 or more recharges and you have saved money.
If you are going to buy alkaline batteries we recommend the AA and AAA Duracell PROCELL and Energizer Industrial. They are both good batteries for the price. However, they are only available from online resellers in boxes of 10 upwards.
Best Battery Chargers AA/AAA
Since we have a number of rechargeable batteries we needed a good battery charger. We selected the La Crosse Technology BC-1000. It charges either AA or AAA batteries, and it can refresh some otherwise "dead" rechargeable batteries. We used the refresh mode, and it does work. It recovered mAh and a number of other "dead rechargeable batteries". We like the BC700, but prefer the 1000 because it has higher mAh capacity.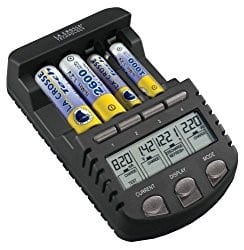 Best all round charger. The A/C powered LaCrosse BC1000 Alpha Power Battery Charger can recharge AA and AAA batteries. It can refresh nearly dead rechargeable batteries. It also autosenses the max charge in mAh (mili-amp-hours) and displays it on the console. The Maha C9000 is an excellent, well rated alternative. If you are using lower mAh AA and AAA batteries the BC 700 is also a good charger. These two chargers switch places as #1 periodically.
Portable Solar Panel for Off Grid Battery Charging
We recommend the Nekteck 21. The Nekteck is a good emergency, camping or "Off Grid" battery charger. It is portable and can charge any USB device such as: smartphone, tablet, and USB power packs. We bought one for outside events, camping and to be prepared for common emergencies like power outages, snow storms, hurricanes, floods and other disasters.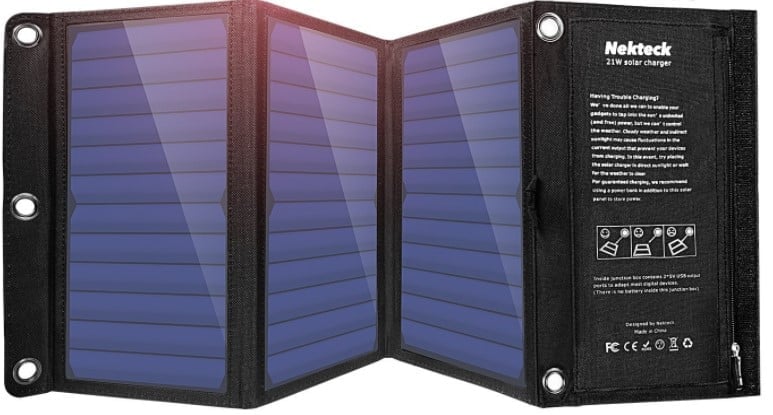 The Neckteck has charged cellphones and batteries reliably. There are numerous 21W solar panels that can charge nearly any USB device. We considered the Goal Zero 20, the Anker 21 and a few others but ended up selecting the Nekteck due to its high ratings (and it has lived up to those ratings). This unit is simple, easy to use and it works.
Best Battery Charger – USB Powered
When we bought the Nekteck 21 we wanted to be able to use it to charge AA, AAA and 18650 rechargeable batteries. So we searched around and found a few but one stuck out so we bought it.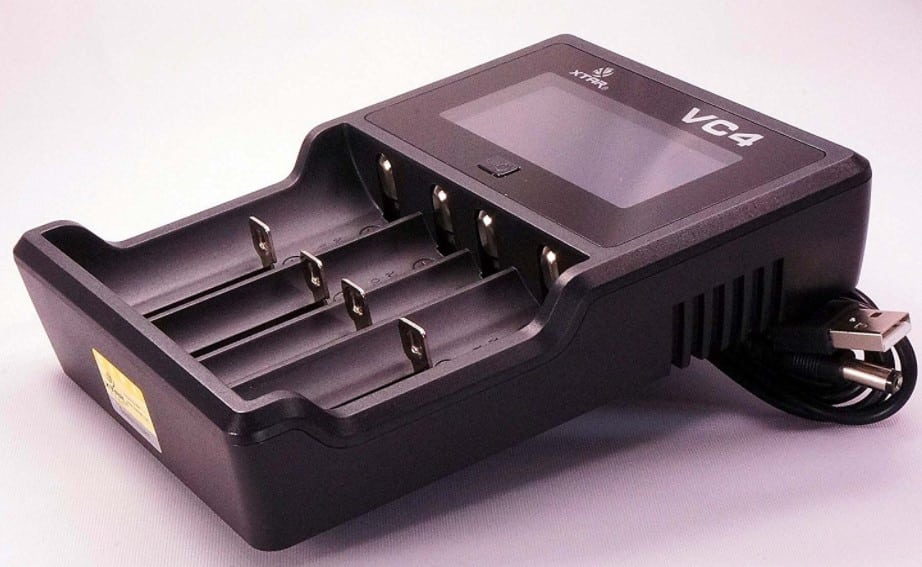 The XTAR VC4 Battery Charger charges AA, AAA, 18650 and numerous other rechargeable batteries using power from any powered USB port (such as the Nekteck) or any 5v USB A/C adapter or computer USB port. We have charged AA, AAA and 18650 batteries with it. It is not fancy but it works.
Portable Battery Pack for Charging Cellphones and Tablets
The Anker PowerCore 26800 portable battery pack provides USB power to a cellphone, tablet or any other USB powered device. It allows you to store up power from the Nekteck during the day and have it available in the dark or when it's overcast. A battery pack acts as a portable charger to give you flexibility in providing power to your cellphone or tablet, when other power sources are unavailable.
Emergency Radios with Built in Battery Chargers
We recommend every emergency kit include an emergency radio with AM, FM, and Weather. It can provide you critical info in an emergency. The radios recommended below can be powered by Hand Crank or Solar and can charge your smartphone or other USB device such as the battery pack (if you crank a LOT).
Recommended Emergency Radio: We recommend the Kaito Voyager radio because it can receive AM, FM, Emergency and Shortwave Radio 8" x 5" x 2.6" inches 19.5 oz. It can charge itself or a USB device using the crank or solar panel.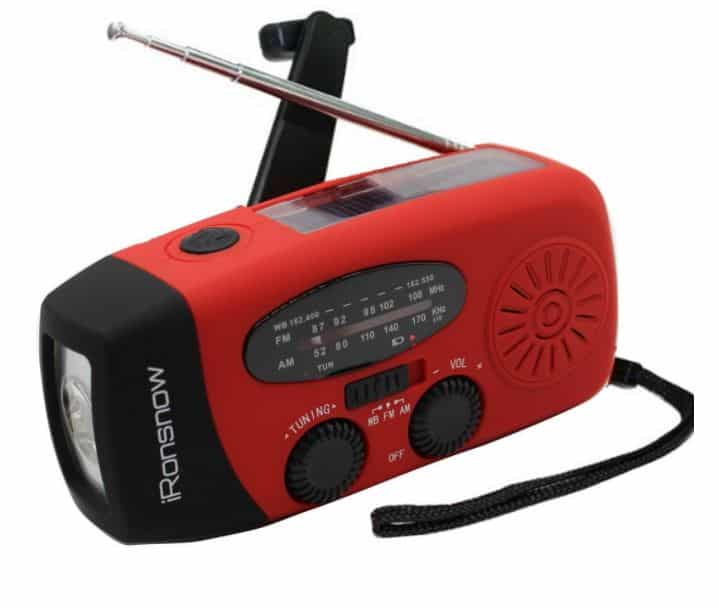 Runner up Emergency Radio: iRonsnow IS-088U+ Emergency Radio 5 x 1.6 x 2.4 inches 7.2oz – this one is lightweight and compact for a backpack, small get home bag or if you are a prepper a bug out bag. It can charge itself or a USB device using the crank or solar panel.

Battery "Converters"
In an emergency you might only have AA batteries. If you want a budget friendly way to use your current AA rechargeable batteries for devices that require C or D batteries, say for a flashlight you only use once in a while, you can use the Sanyo Eneloop Spacer Pack: 4 Pack of C-size and 4 Pack of D-size Adapters. These adapters slip over your AA batteries so they can be used in place of C and D cells. They don't change the power characteristics of the batteries, but if you need to make the proverbial square peg fit in a round hole, they work and make the AA batteries fill multiple roles.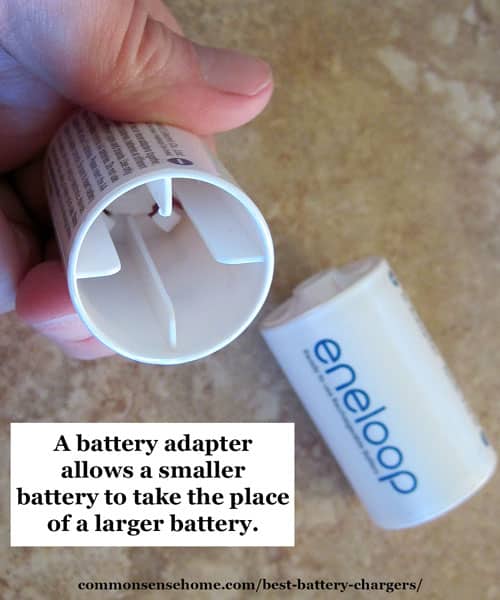 Battery and Battery Charger Storage
When my husband and I were first married, there were many times when I went looking in the kitchen "stuff" drawer for the right battery, only to find out that we didn't have the right size battery or the rechargeable batteries were completely dead. Since then, we've gotten more organized. For Christmas a few years ago, my husband's parents gave us a heavy duty storage case stocked with long life alkaline batteries. (Shown below.) (If you're reading this, thank you grandma and grandpa! We use it regularly.)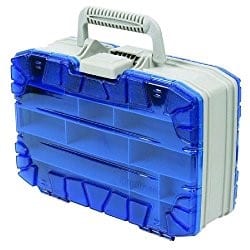 We have three spots we keep our batteries and chargers. (Yes, the collection has grown over the years.) The heavy duty storage case that my in-laws bought is the Flambeau 7320 Double Satchel Tackle Box (pictured above and below), which is impact resistant and has 27 individual storage compartments. Both sides open up to make it easy to see everything that's in it. This is a GREAT box and has held up for years and keeps the batteries organized well.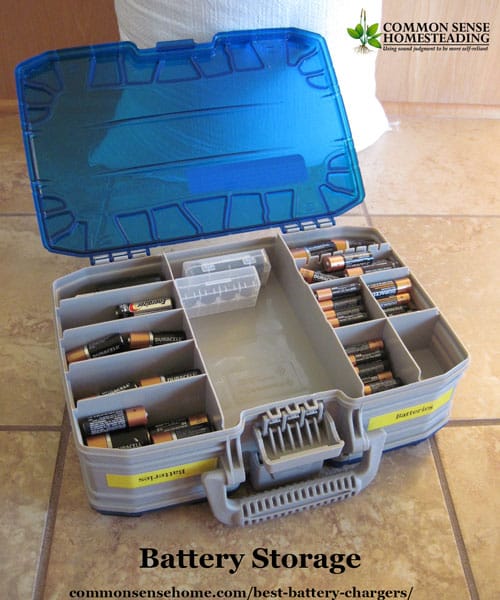 There's a smaller battery rack with built in tester that now lives in the kitchen stuff drawer to keep batteries organized. If we get a new one it will be more like the Range Kleen Battery Organizer Case.
We also bought a plain, sturdy toolbox to hold everything that doesn't fit in tackle box or organizer, like the bulkier chargers and oddball items.
Why Buy Battery Chargers and Rechargeable Batteries?
It's easy to take things for granted. We assume electricity and lighting are always available, even though we know they are not. My mom used oil lamps for lighting as a kid, now we flip a switch and the light comes on. (Almost all the time.) Our electric grid is aging, and bad weather or unexpected power outages can happen at any time. It just makes sense to plan ahead to make sure we have the power we need when we need it.
Using common sense we can increase our safety, reduce the amount we pay for batteries and lower our environmental impact. Remember, both rechargeable and non-rechargeable batteries can and should be recycled. If you don't know where to recycle, you can use the Call 2 Recycle Locator page to find a battery recycling location near you.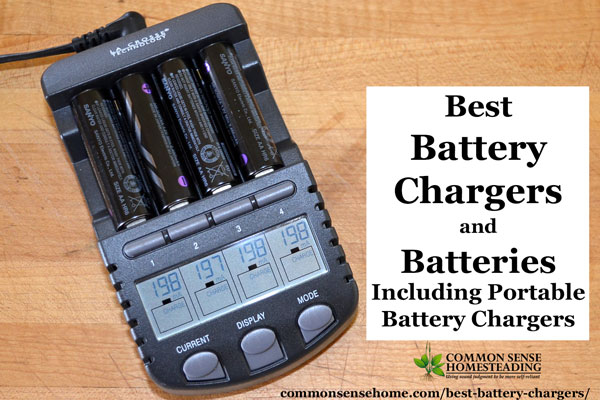 I hope you find this post useful. It was a family effort, with bits contributed from my husband, my son (August V) and myself, and it took a while to pull everything together, plus my poor country internet connection kept dropping while I was working on it.
Related posts you may also find useful:
Originally published in 2015, updated in 2017.
The post Best Battery Chargers and Batteries, Including Portable Battery Chargers appeared first on Common Sense Homesteading.