When it comes to sustainable living, there's no better person to design the ideal off grid, mobile tiny home than an architect who has firsthand experience living a minimalist, mobile life on a daily basis.
A decade ago, Matthew Hofmann, architect at Hofmann Architecture, gave up conventional living and all the unnecessary clutter that went with it to start his own firm and reside full time in a renovated Airstream. This began his vision for creating a sustainable, self-sufficient, mobile living space designed to withstand rugged terrain and support its occupants off the grid.
The result: Living Vehicle, an RV capable of sustaining two people completely off the grid for weeks at a time.
To Hofmann, sustainability means more than just using recycled materials or equipping a home for off the grid living. It's the idea of endurance – making a home capable of supporting life and building it to last a lifetime.
Living Vehicle is designed to do both, giving occupants a sustainable, mobile living space equipped to withstand a variety of terrain and weather conditions for a lifetime of use. It does so beautifully, with features not typically found in RVs.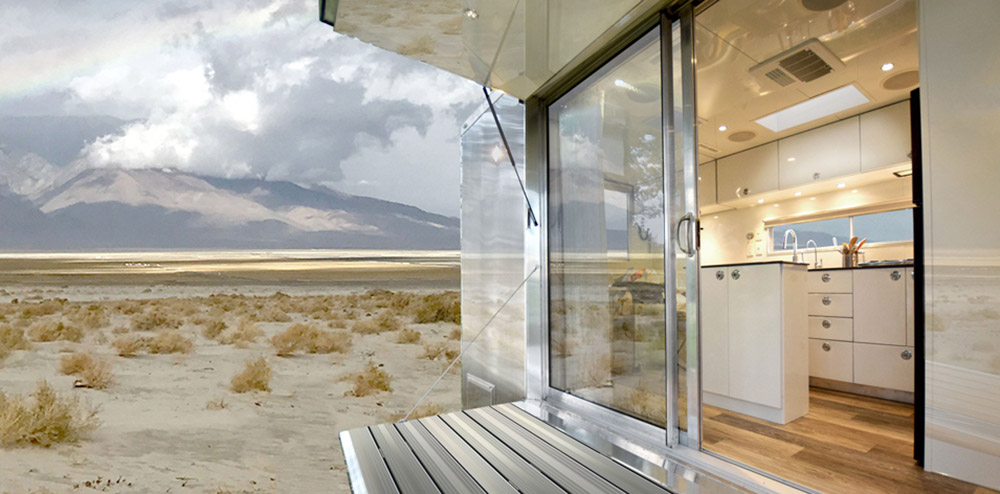 We believe that the key to a sustainable life is choosing the values that matter most and living accordingly. Driven by honesty, passion and ingenuity, Living Vehicle is the culmination of Matthew Hofmann's decade of experience designing and living in mobile spaces.

The mission of Living Vehicle is to innovate the future of sustainable housing by creating self-contained vehicles that are capable of supporting human life perpetually.
The Living Vehicle's kitchen features a deep stainless steel sink, a movable island with storage, a pantry, and plenty of cabinet storage.
And unlike most tiny houses or RVs, it is equipped with full-sized appliances, including a stainless steel fridge, dishwasher, convection oven, and microwave. The spacious dining area seats six people and can double as a place to relax and watch the wall-mounted widescreen television.
Above the dining area, a hidden bed is built into the ceiling that can be lowered with an electronic switch. The bed comfortably sleeps two and stores away in "ready to go" condition, fully made with sheets and pillows, so it is ready to use immediately when lowered.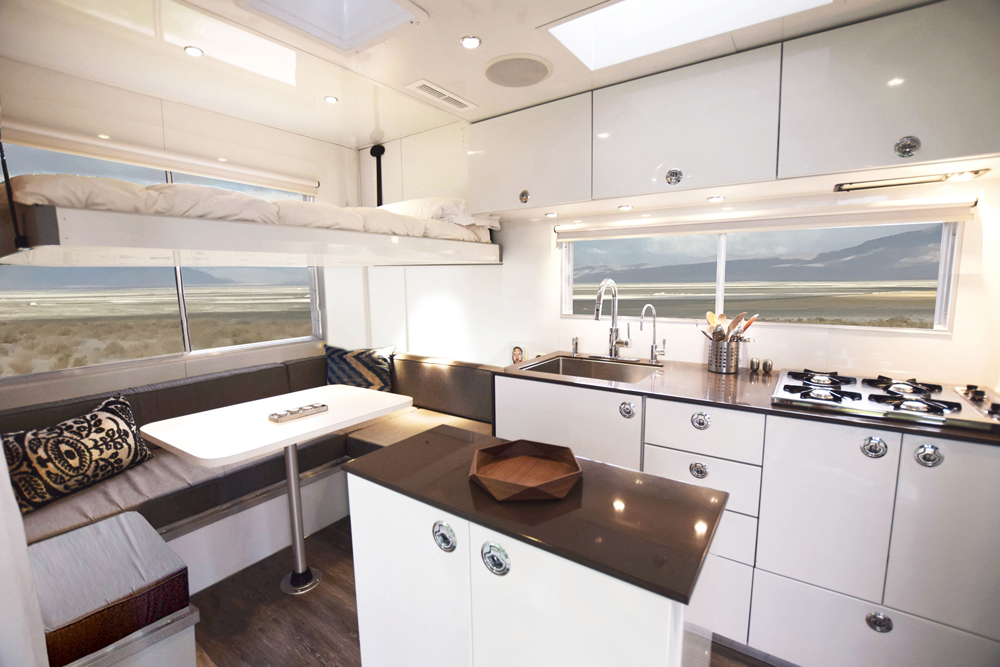 For travelers looking to stay connected while enjoying their adventures, the home is equipped with a WIFI and cell-based LTE antenna which connect to a router inside the living area, giving occupants a variety of options for connecting to internet services. Lighting comes from the energy-efficient LED lights with dimming switches found throughout, all powered by a rooftop solar panel system connected to a lithium battery bank.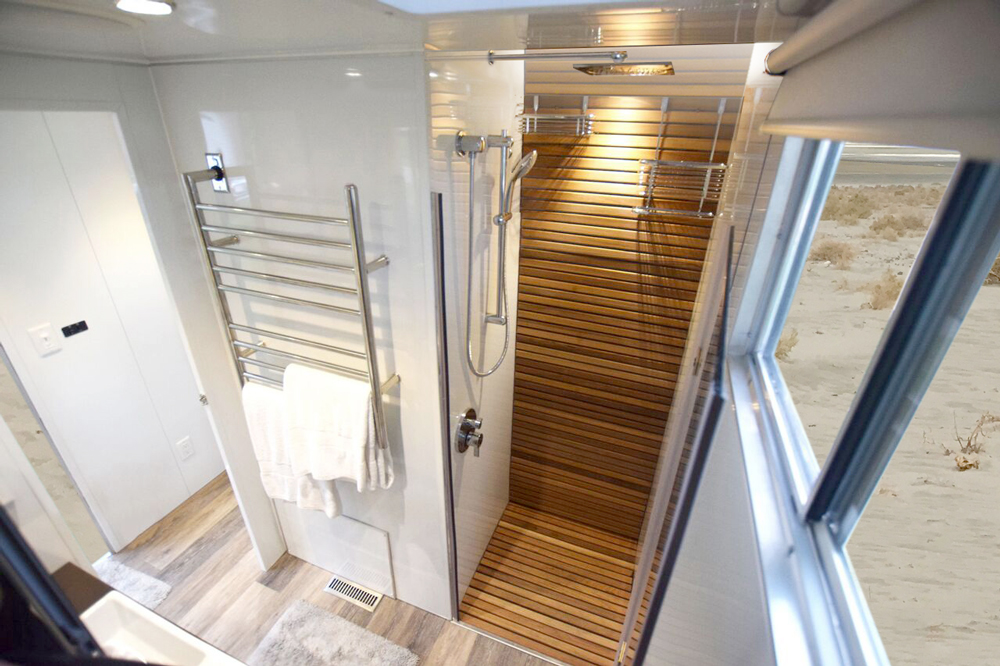 Two frosted glass skylights provide additional light inside the home, the largest of which provides nighttime views above the queen bed in the bedroom suite.
A beautiful teak wall in the shower doubles as a place to mount hooks or shelving when additional storage is needed. This, in addition to the rain shower head and towel warmer, make this room seem more like a luxurious spa than an RV bathroom.
To efficiently maximize storage areas, the bedroom closet houses a dresser and both upper and lower shelves for storing shoes, clothes, and other household necessities. A digital safe is also mounted into the closet for securing valuables.
With years of mobile living experience, Matthew has designed some of the most lifestyle-improving features into this package to spend more time enjoying life and less time cleaning and maintaining your vehicle.

The innovative Washer/Dryer combo is the highlight, with the capacity to both wash and dry clothing in the same cycle with no need to switch over. A supplemental gray-water tank adds to the capacity of the system.

For easy, on-the-go cleaning, a central-vac system is outstanding news for those with allergies – taking dust, dander, and debris and extracting through the included hose to an outdoor accessed compartment. Trash is a constant issue in mobile living, so we created a dedicated Trash-Chute to an exterior accessed double trash can on a pull out slider.

Living Vehicle is extremely well equipped to support long-term off-the-grid living. We estimate that in a temperate climate, with mindful water usage and consistent sunlight to re-power the solar battery bank, Living Vehicle could support 2 people living off-the-grid for up to 1 month or longer.
Living Vehicle is meant to be taken off road. It has high clearance, rigid framing, and aluminum siding that together allow it to withstand rigorous off road conditions. It is also equipped with high insulation values that allow it to be used in all seasons, hot or cold.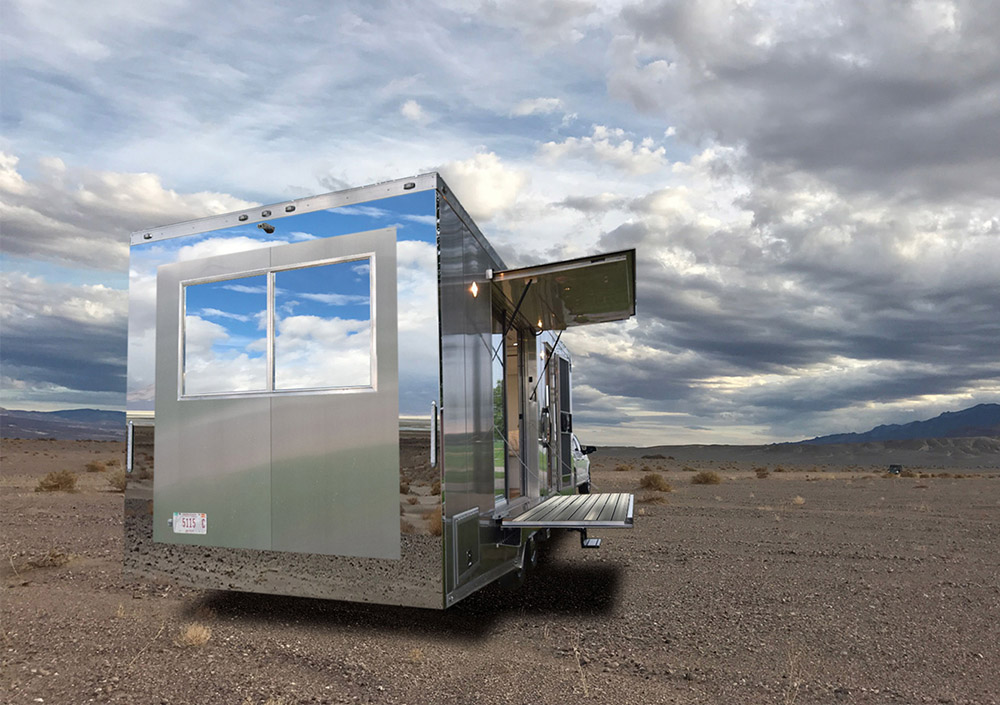 The number of amazing, thoughtful details that went into the design of this RV are just too numerous to list in their entirety. The package includes security systems; features to minimize and utilize waste; off grid water, solar, and battery systems; deliberately designed outdoor recreation spaces; and more. Check out the Living Vehicle Features page to see them all for yourself.
You can also view the impressive list of specs on the Living Vehicle here – Living Vehicle specs
And visit the gallery of Hofmann's gorgeous renovated Airstreams here – Hofman Airstream campers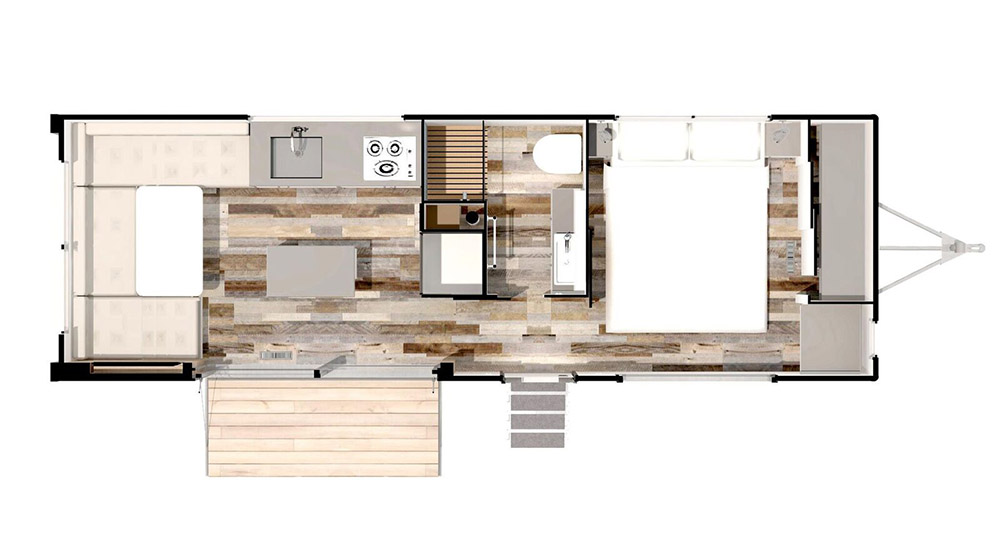 This article first appeared on offgridworld.com Check it out here