This is a list of practical gifts for those you care about. These are safe, reliable and practical items in a variety of price ranges. My wife won't let me buy her jewelry (she rarely wears it anyway), but she does appreciate a gift that keeps her comfortable, makes a job easier or solves an ongoing problem. (We don't have any rules in this house about not buying gifts that end in "er".) After over 23 years together, we're still best friends, so often we pick out gifts together and use them as family gifts. Speaking of family, there are a couple of not-quite-so-practical gifts that we got for the boys on the list, too. To wrap up the post, Laurie shares some tips for dressing up gifts without spending a ton of money.
Free Practical Gifts
Subscribe to Common Sense Homesteading and get a free eBook and receive weekly updates and special offers. Share Common Sense Homesteading with friends and family. It helps keep us going, and helps you and your loved ones be more self reliant.
Give your time – Offer to babysit, run an errand, help with a task that needs doing, volunteer in your community. Give an hour or an afternoon – whatever you can do.
Listen and be present – So often we rush through life focused on where we're going instead of where we are. Be the friend or loved one that listens when others need to talk. Take time to give that hug, share that story and appreciate the moment.
Regift or donate things you no longer need – Sometimes we get gifts (or purchase things ourselves) that we think we'll use, but don't. If something is in good condition but just taking up space in your home, find it a new home. When the boys go through growth spurts, they outgrow before they outwear clothes, so those are passed along. My wife was gifted cookware that was nice, but not a good fit for how we cook. I'm sure it's put to much better use in its new home.
Practical Gifts Under $20
Some of these we purchased for the boys, some for other folks. We tend to be year round gift givers, not just during the holidays.
If you read "The Best Cheap Flashlight" post, this might look familiar. It's practical, but a little prettier than some of the other lights. Lumitop 110 Lumen AAA Flashlight. This tiny bright flashlight could be on a keychain or in a first aid kit, or pocket or purse. It uses one standard AAA battery.

First Alert FIAFESA5 This car fire extinguisher. It's not glamorous, but it might save your loved ones. This fire extinguisher is for gasoline, oil, grease and electrical fires. (My wife commented, "It's red – that's festive! Just stick a bow on it.")
Lifestraw is a camping and preparedness portable water filter. You can keep these in a car or home emergency kit, or use them for camping or traveling.
Plano 781 22 inch Toolbox Grandma and grandpa got each boy their own toolbox for Christmas when they were younger. Each year we add specific tools to their individual kits, matching what they are interested in. Each one has their name on it. Duncan has more gardening tools. August has more electrical tools.
Standard Cutting Board (13 Inches) – Made in USA. It will need cutting board oil. We recommend a maple or oak cutting board to reduce bacterial contamination. For more info, see the post 4 Reasons Wooden Cutting Boards Are Best.
Lodge L8SK3 10-1/4-Inch Pre-Seasoned Skillet Every home should have a cast iron skillet. See Cooking With Cast Iron—How And Why To Get Started for tips on using your cast iron.
Not Quite so Practical Gifts Under $20
Glowz Glow in the Dark Tape. This glow in the dark (photoluminescent) tape is 30 feet long and 1 inch wide. It is a great simple gift for a creative child (or adult). It is waterproof and removable. The boys had a blast with this when they were younger, covering their wooden swords and shields. They'd charge the toys up in the light in one room, and then go play in the dark in another room.
Sugoiti Water Balloon Launcher 100 Yard Slingshot For Kids Adult 1 or 3 Person Not Including Water Balloons. This is not entirely practical, but it is a team activity. You can buy two launchers, set teams up on either end of a field and launch away. Alternatively, set up a target at a distance. I had a blast with these when I was a teenager, so it's been fun to share the stories with my boys and give them a chance to try their aim, too.
500 Sugoiti Water Balloons for Water Sports and Party. These go with the Sugoti Water Balloon launcher.
Practical Gifts Under $30
Encyclopedia of County Living If you are starting homesteading, or wanting to be a bit more self reliant, this is the book for you. It's part journal, part "how to" manual. You can read Laurie's review here.

United States Postal Service (USPS) 2 20 packs forever stamps Get friends or family two books of 20 and they have something they will use – and thank you when they go hunting for a stamp.
Core Products CorPak Hot & Cold Therapy Pack This hot/cold pack is excellent. We have a number of these. They are great for earaches, sore muscles or cold feet. One of Laurie's closest friends works as a designer at Core Products right here in Wisconsin.
Betty Crocker 1950 Cookbook a kitchen classic.
Titan Survivor 100ft #550 Paracord For the survivalist in your family. This 100 foot multi-function #550 para-cord is a bit of novelty, but also functions as regular rope if needed.
Wool Blend Blanket for your car or an extra layer. This is a 80% wool 84×64 inch blanket is perfect as an extra layer. Wool will keep you warm even if it gets wet.
Gerber Suspension Multi-tool Great tool to leave in a car or truck, fishing tackle box, desk drawer, back pocket or emergency grab bag. Get a multi-tool as a practical gift (or get one for yourself). This unit is well rated on Amazon.

aTatcial A1s Neutral White 1150 Lumen LED flashlight. I tried out quite an assortment of them while testing flashlights, and this is a personal favorite, we bought 3 so far. It is a pocket sized, very bright 5 model LED flashlight. The A1s uses an 18650 rechargeable battery.
12 volt Heated Fleece car blanket This 12 volt blanket measures 58 inch by 42 inch and plugs into your cigarette lighter. It'll keep you warm on a cold winter drive.
Never Buy Bread Again Buy the spiral bound print book and get the ebook as a free bonus! This is Laurie's first print book, and shares our favorite family recipes and the stories that go with them. Learn how to bake over 20 different types of bread, plus the right ways to store your homemade bread, tips and recipes for using leftover bread, and yummy recipes to serve with your bread like garden veggie dip and sloppy Joe ground beef.
Practical Gifts Under $50
Fat Max 2200 Lumen Spotlight This is a good handheld rechargeable portable spotlight. It lights up a hill over 300 feet away in our back yard. It is great for a homestead, large yards and outdoor activities.
Superior Reversible Down Alternative Comforter This medium weight bedding is for all season use. It is fluffy, warm, soft and hypoallergenic. It is Full/Queen Sized. Pick this or any SUPER COMFY throw as a gift for a child or adult.
Kaito Crank/Solar emergency Radio This FM/AM/NWS/Shortwave radio can charge off of A/C, charge in the sun and can be crank charged. It can charge your cellphone,too. (It's a good price, but its slow shipping so you might not get it by Christmas.)
Practical Gifts Under $100
Chezmoi Collection 3-piece Micromink Sherpa Reversible Down Alternative Comforter This is a comfy Queen sized set. Like noted above, comfy bedding is a great gift for children and adults.
Nesco FD-75A Snackmaster Pro Food Dehydrator This unit is smaller and less expensive than the Excalibur dehydrator. It's a great little unit for smaller jobs, especially herb drying. We had our original unit for over 15 years before it gave out. The newer version we replaced our old one with works even better. The heater and fan are now on top, so when food falls off the sheets, it doesn't fall into anything it can damage. Laurie uses the Excalibur for the big jobs and the Snackmaster for lighter duty.
John Boos Prestige Maple Wood Edge Grain Reversible Cutting Board We have this one and really like it. It is 20 x 15 x 1.25 Inches and has a small grip hole and juice groove. John Boos cutting boards are made in the USA. For info see the post 4 Reasons Wooden Cutting Boards Are Best.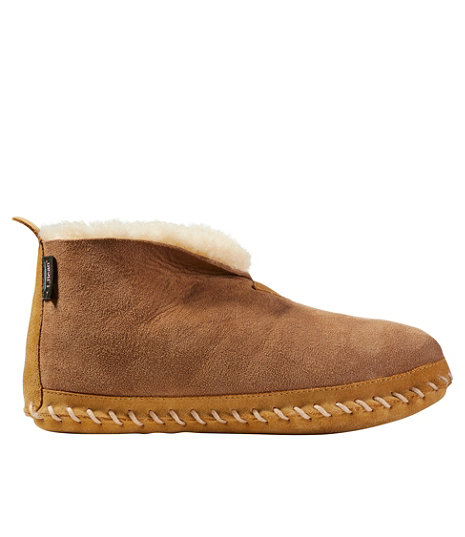 LL Bean Slippers My favorite slippers. I've had the same pair for over 20 years, although they are starting to look a little rough. Laurie mended some stitches that gave out, and Duncan patched a tear with duck tape.

Amerex B402, 5lb ABC Dry Chemical Class A B C Fire Extinguisher with Wall Bracket. This is a bigger unit than the one listed above, and would be a good fit for a garage or utility area.
Survival Solutions Travel First aid kit This is a very good first aid kit. Both the nurses in our extended family picked it as the best kit. We have it in our van all the time. See Best First Aid Kit Recommendations for Home, Car, Office and Travel for more emergency kit ideas.
Leatherman Wave The Leatherman is the classic multi-tool. Whether its in a tool kit, desk draw, fishing tackle box, kitchen drawer, glove compartment, or your back pocket this is good to have around. It is practical and useful.
Practical Gift Under $200
Ambient Weather WS-2902 10-in-1 Wi-Fi Professional Weather Station with Internet Monitoring, Compatible with Alexa – The weather station measures wind speed, wind direction, rainfall, outdoor temperature and humidity, solar radiation and UV. Also included inside the console is temperature, humidity and barometric pressure. The weather station also calculates dew point, wind Chill and heat index.
FoodSaver FM2435-ECR Vacuum Sealing System with Bonus Handheld Sealer and Starter Kit – Vacuum sealing can dramatically improve food storage life and quality. This unit keeps the clamshell design, which Laurie prefers, and also includes a bag cutter, roll storage and handheld sealer. See 5 Uses for a Vacuum Sealer Everyone Should Know for ideas on how to use the unit.
Excalibur 3900B 9 Tray Deluxe Dehydrator We have been using this unit for a few years. It is large, reliable and works well. If you do a lot of food drying, this is the unit for you.
Pendleton 100% Eco-Wise Wool blanket 90×96 inch blanket. Wool is a lifetime gift, it will keep you warm even if it's wet.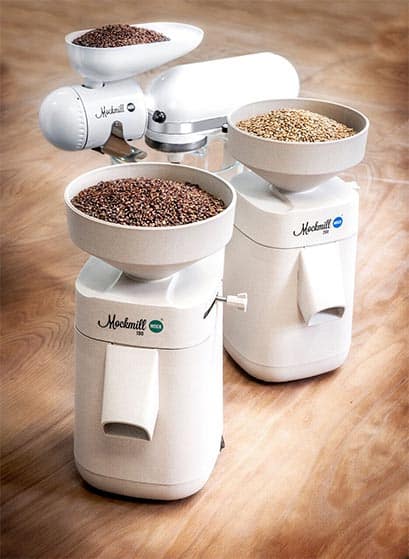 Mockmill Home Grain Mills – the Mockmill 100 and Mockmill grain mill mixer attachment are both under $300. The Mockmill 100 is a stand-alone unit, and is suited for milling fairly large amounts of grains for the home baker. It has a small footprint, so it stores easily on the counter top or in the pantry. For those who mill grain only occasionally, the mixer attachment grain mill fits right onto your stand mixer. Both grain mills feature "Near-Diamond "Star Sculpted" Corundum Ceramic Stones" for durability. The finished flours don't get heated up during grinding like some other home grain mills.
Practical Gifts Under $300
Mr. Heater MH18B, Portable Propane Heater If you or a loved one is into camping or hunting or just trying to stay warm when the power is out, this safe indoor propane heater is a practical, possibly even life saving gift. Lean more about portable heaters here.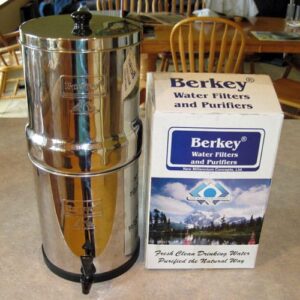 Big Berkey water filter. This is a gift that will get used every day. The Black Berkey Elements (filters) remove 99.999% of viruses, 99.9999% of pathogenic bacteria, chlorine, volatile organic compounds including pesticides and herbicides, and 95% of most heavy metals. We have the Big Berkey in our kitchen. It is gravity operated and requires no power.
This filter provides safe drinking water , even in emergencies. The Big Berkey on sale! $25 off plus if you sign up with them get an additional 15% off! Don't forget the extra filters. The 2 gallon Big Berkey 99.999% with 6 (3 packs) filters will filter 7 gal per hour with all 4 filters. Note: You need 6 extra filters, to add 2 and still have 4 left as replacements.
Practical Gifts Over $1000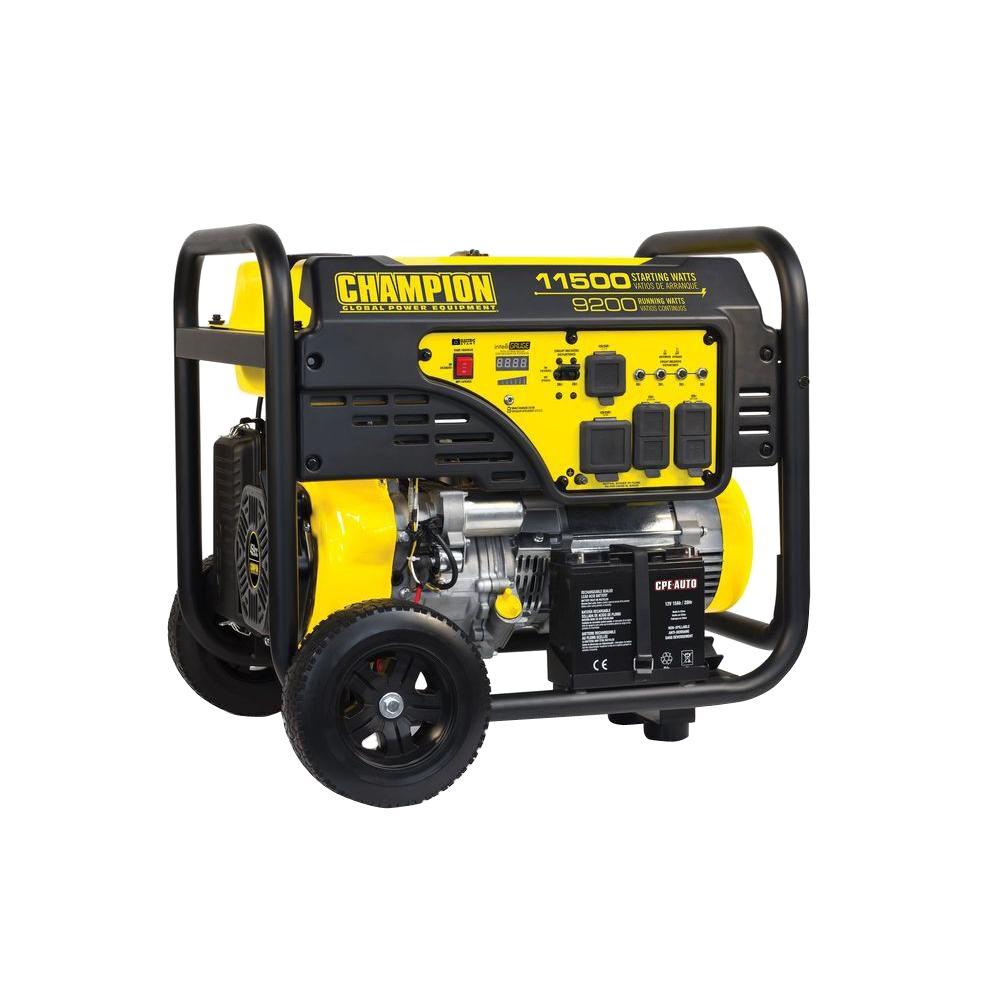 Champion Power Equipment 9,200-Watt Generator A Dual Fuel (Gas or Propane) generator. Propane stores for years. Gasoline doesn't store well.
Home freeze dryers from Harvest Right, now available in three sizes and a variety of colors. HarvestRight is also offering an additional discount to Common Sense Homesteading readers. Just enter "commonsense50" at checkout for an additional $50 off of your purchase of a HarvestRight home freeze dryer. Click Here to visit the Harvest Right website.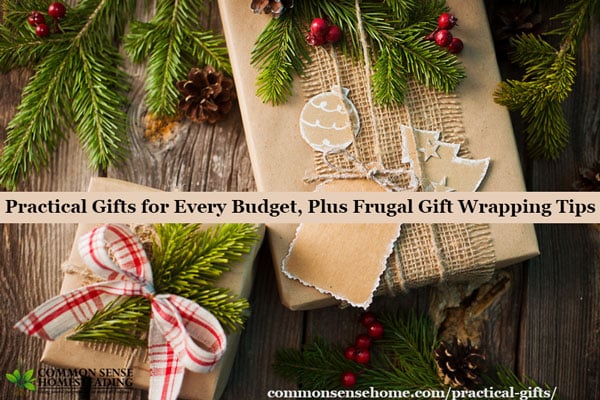 5 Tips for Dressing Up Your Gifts Without Spending a Ton of Money
Laurie here, taking over this part of the post from August. I've never liked shelling out big bucks for wrapping paper and then just throwing it away. (Regular wrapping paper doesn't recycle well.) Over the years, I've used a few different ways to dress up gifts without spending a ton of money.
1. Put gifts in reusable baskets or tins instead of wrapping.
This is great for homemade gifts, like cookies, breads, jams or jellies, soaps, lotion bars or bath salts. (Just don't mix soap and food.) You can usually find used baskets and tins at thrift stores. They often have kitchen towels that are inexpensive, too, which you can use to pad your gifts. You can crumple some newspaper under the towel to help stabilize your gifts and hold them nicely for display.
2. Dress up plain wrapping with natural materials.
Pine cones, evergreen boughs, dried flowers or seed heads can add seasonal flavor to gifts. If you're getting a real Christmas tree and need to trim a couple bottom branches, save those trimmings and use them for other decoration. Pairing strips of burlap with plain brown paper adds texture and interest to wrapping.
3. Watch for small items at thrift stores.
Heading into the holiday season, local thrift store shelves are loaded with odds and ends, bit and baubles. You can find old costume jewelry, ornaments, bows, ribbons, pretty mugs and other shiny bits to dress up a gift. Making homemade hot cocoa mix for gifting? Pair it with a seasonal mug and a couple of candy canes.
4. Use pillow cases, sheets and gift bags.
Another thrift store find I like to use for gift wrapping is old pillow cases. Odd shape gift? No problem. You can save them and reuse them for wrapping from year to year, or use them as spare pillow cases. The same goes for gift bags, especially fabric ones. You don't have to use them and toss them. Use them, and use them again. For BIG items, cover it up with a sheet and stick a bow on it. Done.
5. Watch for Boxes with Pretty Patterns.
I'm not much of a shoe person, but many ladies shoes come in boxes that have a lovely pattern on them. (I've seen them in my MIL's closet. She buys cute shoes.) Just use the decorations that are already on the box and tack a gift tag on, and you're ready to go.
Other Gift Ideas
Gift certificates to seed companies and nurseries will be enjoyed by any gardener on your list. You can check out some of our favorite mail order nurseries on the Homestead Resources page. Laurie talks about some of her favorite garden tools (and a few things on the wishlist) in the post Garden Gifts They'll Love – Practical, Beautiful and Unique.
We also have:
7 Easy Tips for Greener Gifting – From Homemade to Fair Trade
9 Easy Homemade Citrus Gifts – Great for Little Helpers at Gift Giving Time
Have a wonderful holiday season, from our family to yours.
The post Practical Gifts for Every Budget, Plus 5 Frugal Gift Wrapping Tips appeared first on Common Sense Homesteading.